The Early Childhood Education Center would like to offer our parents and visitors a place to find information, get ideas and learn about upcoming workshops and community events.
---

---
 On July 17, 2017 SEFCU donated $1,250 to ECEC.
---
On January 13, 2017 a Stewarts opened across the street from the Schenectady site. Rachelle graciously received a check of $1000 for ECEC.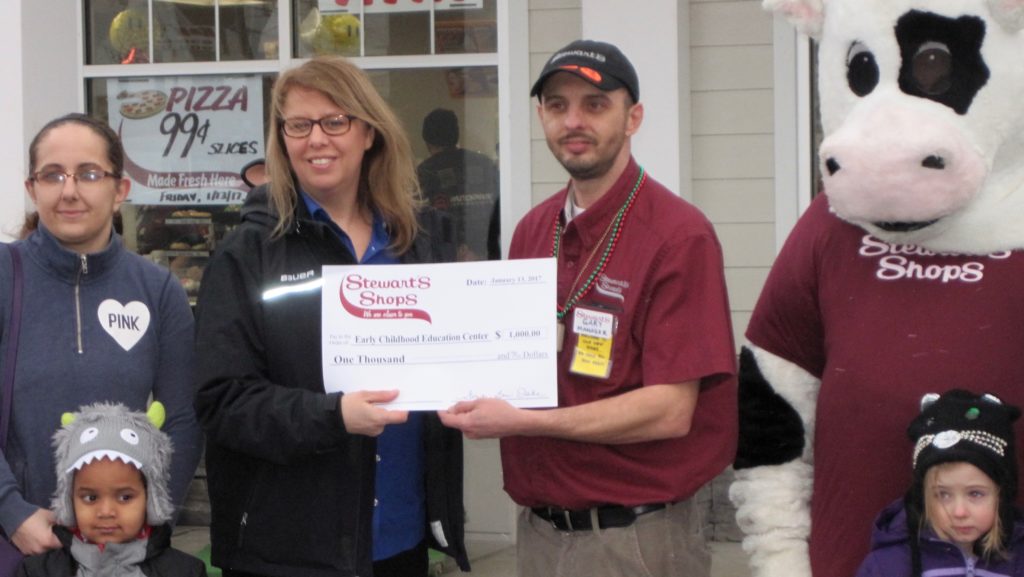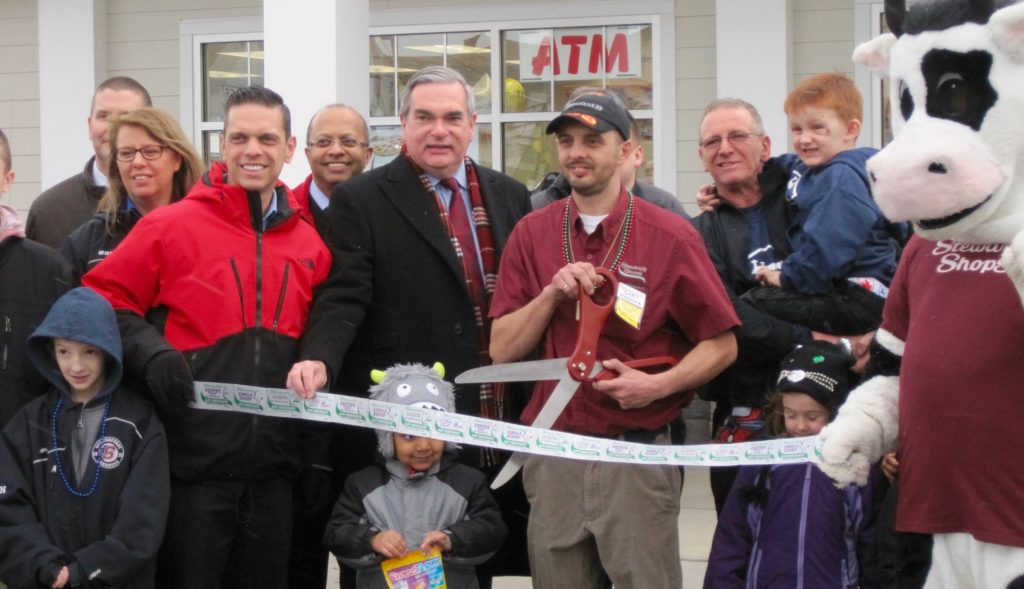 ---
Members of the RPI Hockey team took time out of their busy schedule to volunteer on Thursday January 12, 2017 at the Early Childhood Education Center's Troy Site. Head coach Seth Appert and a few of his players were able to get one-on-one firsthand experience with some pre-school students with special needs such as autism.The volunteer experience Thursday gave the team a better perspective on why they will be playing in its 5th annual Autism Awareness Game at the Houston Field House Saturday Jan. 14 at 7 p.m against Dartmouth College. The awareness game is designed to raise awareness about Autism Spectrum Disorder and the millions of people who live with the disorder. The game is played without any music, without the bright lights and even without the loud goal horn, so that people who are living with the Autism Spectrum Disorder can enjoy a sporting event like hockey, but without all the loud noises and distractions that would otherwise bother an autistic person trying to watch a live hockey game.
---
 
We wanted to take a moment to share with you our excitement and enthusiasm about what we have been working on during our staff development days. We have been learning about the Pyramid Model. The model was developed by the Early Childhood Advisory Council (comprised of experts in child care, education, health care, family support and mental health). The New York State Pyramid Model Partnership will promote statewide implementation of the model that is based on evidenced based practices to teach social and emotional competence in early childcare and education programs.
At ECEC, we are committed to implementing this model in a developmentally appropriate manner with consideration given to the needs of each child. The trainings have emphasized and reinforced many of our existing practices, but have given us the chance to look at how we can expand upon what we are already doing. Below is a sample pyramid and summary to help you understand the model.
---
Inside Activities to do this month!
---
Visit

Albany's

Flight Trampoline Park: First and third Tuesday of every month is "Special Needs Night" 7-9 p.m.
---
Sky Zone Albany: Special Needs Jump
Second Sunday of every month
Special Needs Sensory Friendly Jump will be from 9am – 11am and will be only $9.99 per hour with advance purchase. Please note that the first hour will be very low sensory with no music playing. The second hour there will be music playing due to other programming.
Where: Sky Zone Albany, 50 Simmons Ln, Albany, NY 12204
When: 9:00 AM – 11:00 AM
Who: Families and Individuals with sensory needs.
How: Pay for jump pass
Cost: $9.99 per hour
For more info: Call (518) 417-3838
---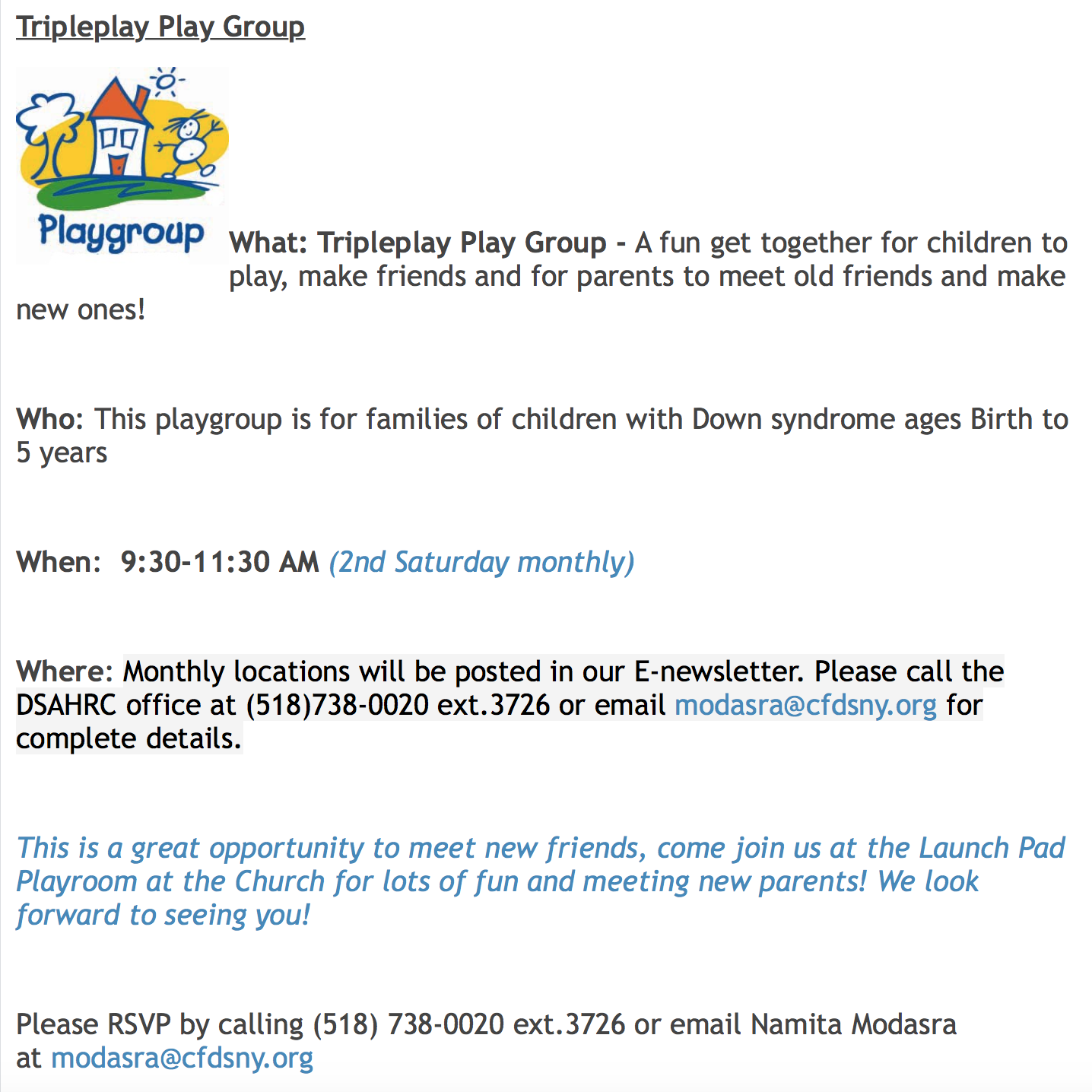 ---
Conferences and Webinars

:
FREE 

Webinar-Preventing Burnout for Parents of Children with Special Needs
August 14, 2017
Start Time: 6:00 PM | End Time: 7:00 PM
Contact: Shannon McCracken Phone: 716-675-0239
Please join Lindsey Pensabene, Regional Coordinator, Parent to Parent of NYS, as she presents a webinar on Preventing Parent Burnout for Parents of Children with Special Needs.
Extraordinary parenting responsibilities create extraordinary pressures on parents. At the same time, parenting a child with special needs requires energy, focus, and enthusiasm to be effective in our role. The better off we are emotionally and physically, the better off our families will be. Join us for this webinar on Preventing Parent Burnout and discover positive ways to cope with and effectively manage stress.
---
FREE

 

Loss, Grief, and Adjustment for Parents of Children with Special Needs
August 2, 2017 

 Start Time 12:00 PM End Time: 1:00 PM Contact: Tina Beauparlant Phone: (518) 381-4350 
Powerful and intense feelings are natural and common responses to parenting a child with exceptional needs. This training will provide an overview of common emotions experienced by parents and discuss how by sharing and acknowledging these emotions parents can find the inner strength needed to face and embrace their role as a parent of a child with special needs.
---
IDEAS
Tottoos.org creates customized temporary tattoos that are perfect for vacations, amusement parks, family outings, shopping or any other situation where a child may accidentally stray away from you. Each Tottoo includes two lines of personalized information. Cost of the basic package is $12.95, plus $2 shipping and handling regardless of the quantity ordered. For more information, visit www.tottoos.org
---
Special Notes/Information:
Follow us on Facebook and visit or

the

 

Blog

 section of this website for more articles/information!
---